Red Bull Matadors Sukhoi SU-26M2 06-07 G-IIIS and 04-05 G-IIIZ. Photo by Wayne Willday
The Bournemouth Air Festival takes place in August spread over four days. The air festival is free and is set against the backdrop of Bournemouth's award winning beaches. The festival includes amazing air displays from classic vintage aircraft to modern day jets, static displays, fireworks, family fun attractions, music and live entertainment.
Bournemouth Air Festival website
Bournemouth Air Festival 2012 - Thursday 30th August 2012 - Sunday 2nd September 2012
Bournemouth Air Week 2012 was blessed mostly with fine weather this year, Sunday being the exception when rain and low cloud prevented most participants from leaving the ground. An impressive line up of display aircraft were on hand to please the many thousands of visitors lining the beaches and cliff tops over the four days. New to this year's display and a first for many was the historic re-enactment of a daring sea rescue of a downed pilot, featuring a Catalina, Me 109, P-51 Mustang and Spitfire. Among the many highlights was the ever popular Avro Vulcan, sad to think that she may not be gracing our skies for much longer. The Reds in their seven-ship formation, (this year only), gave an immaculate and exciting display, we look forward to next year with a return to the full nine-ship programme.
Ex "Reds Boss" Ben Murphy made a welcome return to Bournemouth flying "Miss Demeanour", shame the Sea Vixen is still out of action and unable to fly alongside like last year! The RAF Tornados have to be singled out as giving one of the most exciting and exhilarating displays seen at the seaside, even the gulls and pigeons moved out with the noise! Representing the rest of the RAF were the Battle of Britain Memorial Flight, Hawk, Chinook, Merlin and King Air, Navy, the Black Cats, Sea King and three ships anchored in the bay. Great displays were also performed by the Blades and the Breitling Wingwalkers.
Review by Derek Walker
Images courtesy of Derek Walker
Bournemouth Air Festival 2009 - 23rd August 2009
With a superb mix of interesting aircraft the Bournemouth 2009 Air Festival brings together aircraft from World War II up until the present time.
With displays by the BBMF's Lancaster and Flying Fortress Sally B from Duxford and World War II fighters including a Mustang and a P-40 Kittyhawk. Through to the precision flying of the Royal Navy's Black Cat Display Team, Team Guinot with their Wingwalkers and moving things along to faster aircraft, the usual polished display by the Royal Air Force Display Team, The Red Arrows. Finally a very noisy and fast display by the Typhoon from RAF Coningsby.
Westland Lynx HAS.3S XZ727 and HAS.3 XZ239 - Royal Navy Black Cats Display Team
Westland Lynx HAS.3 XZ239 of The Royal Navy Black Cats Display Team
Eurofighter Typhoon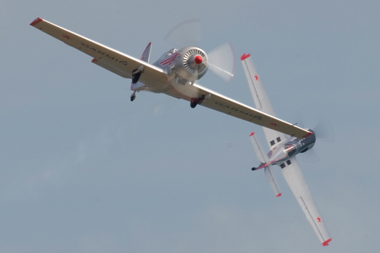 The Yakovlevs
Images courtesy of Wayne Willday